STATEMENT: Secretary of Energy Should Embrace America's Clean Energy Future
Statement
-
December 13, 2016
WASHINGTON (DECEMBER 13, 2016)– According to multiple media reports, President-elect Donald Trump has chosen Governor Rick Perry to lead the Department of Energy. Perry was governor of Texas from 2000 to 2015, and twice ran for president of the United States.
As Secretary of Energy, he would lead the Department's mission to "ensure America's security and prosperity by addressing its energy, environmental and nuclear challenges through transformative science and technology solutions." The Secretary of Energy oversees a budget of $29.6 billion (in 2016), including $10.7 billion for all-of-the-above science and technology.
Last week, several reports revealed that the Trump transition team sent a request seeking names of people within the agency who work on climate and clean energy.
Following is a statement from Jennifer Layke, global director of WRI's Energy Program:
"Governor Perry comes from a state long-associated with the oil industry, but he also has a successful track record of promoting wind power. When Perry took office as governor, Texas had 116 megawatts of wind power, but it now boasts 18,000 megawatts, making it the country's largest wind producer. If the incoming Secretary truly wants to boost America's economy, health and security, he should look no further than extending the Department's commitment to clean, renewable energy.
"The shift to clean energy is well underway and already employing hundreds of thousands of people across the country, including in rural communities. Wind and solar power have been the largest source of new electricity in the U.S. in recent years. The cost to install solar power has fallen by more than 70 percent over the last decade. Wind power currently supplies 4.7% of U.S. electricity and employs more than 88,000 Americans. That's why states from Texas to Maine and Iowa to Florida are all investing in renewable energy.
Read more...
Global collaboration on climate change legal toolkit
2 December 2016
209
115
59
31
Legal experts from key international organisations, including the Commonwealth Secretariat, are meeting to develop a climate change legal toolkit to help countries carry out the Paris Agreement.
The two-day consultation is taking place between 1 and 2 December at the Commonwealth Secretariat's headquarters in London. Academics, think tanks and non-governmental organisations (NGOs) are exchanging knowledge and pooling resources to explore how to best support the legal needs and priorities of countries for climate mitigation, adaptation and finance.
Partners include the Secretariat of the United Nations Framework Convention on Climate Change (UNFCCC) and UN Environment. Participants include representatives from six United Nations entities and the World Bank. The Paris Agreement was signed by 193 countries and aims to combat climate change and adapt to its effects.
Read more...
Marking the One Year Anniversary of the Paris Climate Change Agreement
Celebration and Reality Check
Bonn, Germany, 12 December 2016 – One year after the world adopted the Paris Climate Change Agreement, climate action across governments, business and societies continues to scale new heights. The challenge now is to take this to an even higher scale with a speed and an urgency that reflects the scientific reality.
"2016 was an extraordinary year in many ways. In less than 12 months the Paris climate agreement entered into force and almost weekly, more countries ratify. Meanwhile nations, cities, regions, businesses and investors continue to signal their unwavering support through practical action, shifts in investments and ever more ambitious pledges, "said Patricia Espinosa, the Executive Secretary of the UN Framework Convention on Climate Change (UNFCCC).
"This urgency and this action needs not only to continue but to go to scale and gather ever more speed over 2017 and the years and decades to come—because current ambition still falls short of what is needed. In 2016 the UN's World Meteorological Organization announced world-wide average temperatures had risen 1-degree Celsius in 2015 and that concentrations of the key greenhouse gas, carbon dioxide, reached past the significant milestone of 400 parts per million in the atmosphere over the entire year, "she added.
Ms Espinosa said achieving the aims and ambitions of the Paris Agreement will also rest on the speed and urgency of realizing the 17 Sustainable Development Goals (SDGs), adopted in 2015.
Read more...
Investing in Infrastructure? Don't Forget the Electric Grid
December 7, 2016
Photo by artJazz/Getty Images
by Aimee E. Curtright and Kathleen Loa
One of the initiatives on President-elect Donald Trump's agenda for his first 100 days in office is a plan that would spur $1 trillion in infrastructure investment over 10 years.
Along with fixing America's dilapidated roads, bridges, transit and airports, the plan envisions spending $52 billion in taxpayer money on electricity infrastructure, with a presumed emphasis on integrating advanced "smart grid" technologies. While many consumers might see this as just another technology rollout that could be best left to the private sector and the free market, leaving the future of the electricity grid to chance should not be an option.
To maximize the potential benefits of a multibillion-dollar smart grid investment, a closer examination of smart grid technology and policy is needed.
A smart grid is an electric grid that connects electricity producers to consumers in new ways, including allowing for electricity and information to flow not just from the producers, but back to them as well. It includes the various pieces of equipment and devices that are used to produce, deliver and monitor the electricity that keeps America's lights on.
Read more...
The environmental costs and benefits of fracking: The state of research
On July 30, 2014, the United States did something that had been legally prohibited for nearly 40 years: It
exported domestically produced crude oil
. While minor exports had occurred through the years and the July shipment involved some technical sleight-of-hand (the product was classified as lightly refined "condensates"), it was one of the first significant oil shipments since Congress banned exports in the wake of the 1974 oil embargo.
Respecting the law up to now has been easy, given America's declining domestic oil production and thirst for imported oil — in 2006, the country imported 3.7 billion barrels. What changed between then and now all comes down to one word: fracking, the popular name for hydraulic fracturing. Combined with horizontal drilling, the technique has powered a boom in U.S. energy production, unlocking substantial petroleum and natural gas deposits trapped in shale formations. A lot of this is good news: U.S. consumers and industry rarely complain when energy prices fall, and reducing imports from unstable parts of the world has considerable appeal. Natural gas also releases half as much carbon dioxide as coal, allowing it to potentially serve as a "bridge fuel" to the cleaner energy supported by the majority of Americans.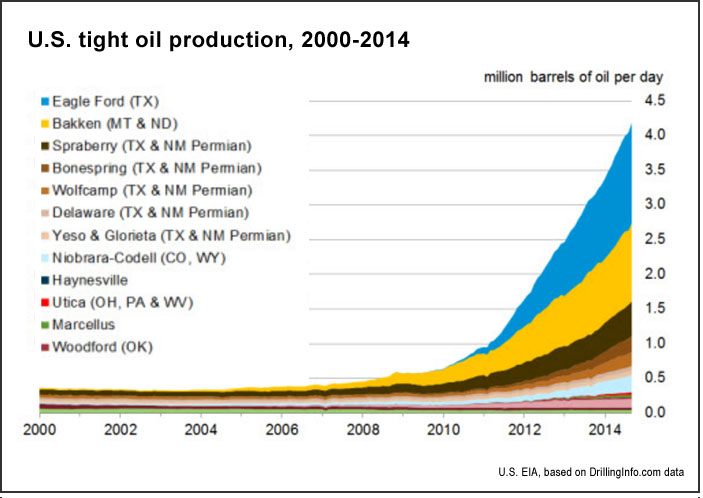 Despite these advantages, fracking remains highly controversial, in large part because of the potential damage it poses to human health and the environment. Reports of fracking operations contaminating aquifers are widespread, and research has found indications of higher rates of silicosis among well workers, an increase in congenital defects to children born nearby, and elevated cancer risk due to air pollution. Even earthquakes have been linked to fracking operations. Such concerns have led a number of towns to try to ban the practice, and fracking has become one of the central issues in the 2014 battle for Colorado's governorship, a crucial swing state.
Read more...
Air Pollution in China
Coal is the leading culprit of air pollution in China. A recent University of Leeds study sponsored by Greenpeace East Asia traced PM2.5 (fine particles with a diameter under 2.5µm) in the Beijing-Tianjin-Hebei region and found the amount of PM2.5 released into the air in 2010 alone was more than ten million tons.
The study also confirmed that the majority of air pollution happens when certain gases are discharged into the air and turn into fine particles. And coal burning contributes most of these gases.
China's epic climb to the world's second-largest economy has had devastating health impacts. Another research project co-authored by Greenpeace on the health impacts of coal power plants shows that PM2.5 pollution from the 196 coal-fired power plants in the capital region of Beijing-Tianjin-Hebei caused 9,900 premature deaths and nearly 70,000 outpatient visits or hospitalizations during 2011. 75% of the premature deaths are caused by the 152 coal-fired power plants in Hebei Province.
Air pollution will remain a serious problem in China as long as coal continues to be the country's major energy source.
PM2.5 concentration levels have particularly endangered public health in big cities like Beijing, Shanghai, Guangzhou and Xi'an. The PM2.5 concentration levels in all four cities exceed World Heath Organisation (WHO) air quality guidelines. This means higher health risks to the cardiovascular system, cerebrovascular system and an increase in the probability of cancer and premature death.
Read more...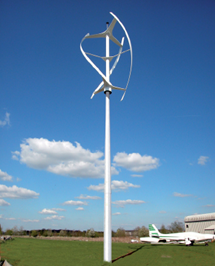 The purpose of this report is to give investors a better idea of which turbine is suitable for a particular setting and to provide a new outlook on vertical-axis wind turbines. Vertical-axis wind turbines are more compact and suitable for residential and commercial areas while horizontal-axis wind turbines are more suitable for wind farms in rural areas or offshore. However, technological advances in vertical-axis wind turbines that are able to generate more energy with a smaller footprint are now challenging the traditional use of horizontal wind turbines in wind farms. Wind technology has grown substantially since its original use as a method to grind grains and will only continue to grow.
Source: http://www.geni.org/globalenergy/research/#hydrogenforelectricitygeneration
How does oil affect the environment?
Crude oil is used to make petroleum products used to fuel airplanes, cars, and trucks; to heat homes; and to make products like medicines and plastics. Although petroleum products make life easier, finding, producing, and moving crude oil may have negative effects on the environment. Technological advances in exploration, production, and transportation of oil and enforcement of safety and environmental laws and regulations help to avoid and reduce these effects.
Technology helps reduce the effects of drilling and producing oil
Exploring and drilling for oil may disturb land and marine ecosystems. Seismic techniques used to explore for oil under the ocean floor may harm fish and marine mammals. Drilling an oil well on land often requires clearing an area of vegetation. These impacts are reduced by technologies that greatly increase the efficiency of exploration and drilling activities. Satellites, global positioning systems, remote sensing devices, and 3-D and 4-D seismic technologies make it possible to discover oil reserves while drilling fewer exploratory wells. Mobile and smaller slimhole drilling rigs reduce the size of the area disturbed by drilling activities. The use of horizontal and directional drilling makes it possible for a single well to produce oil from a much larger area, which reduces the number of wells required to develop an oil field.
Hydraulic fracturing
An oil production technique known as hydraulic fracturing is used to produce oil from shale and other tight geologic formations. This technique has allowed the United States to increase domestic oil production significantly and reduce the amount of oil that the country imports. There are environmental concerns associated with hydraulic fracturing. Fracturing rock requires large amounts of water, and it uses potentially hazardous chemicals to release the oil from the rock strata. In some areas of the country, significant use of water for oil production may affect the availability of water for other uses and can potentially affect aquatic habitats. Faulty well construction or improper handling may result in leaks and spills of fracturing fluids.
Read more...